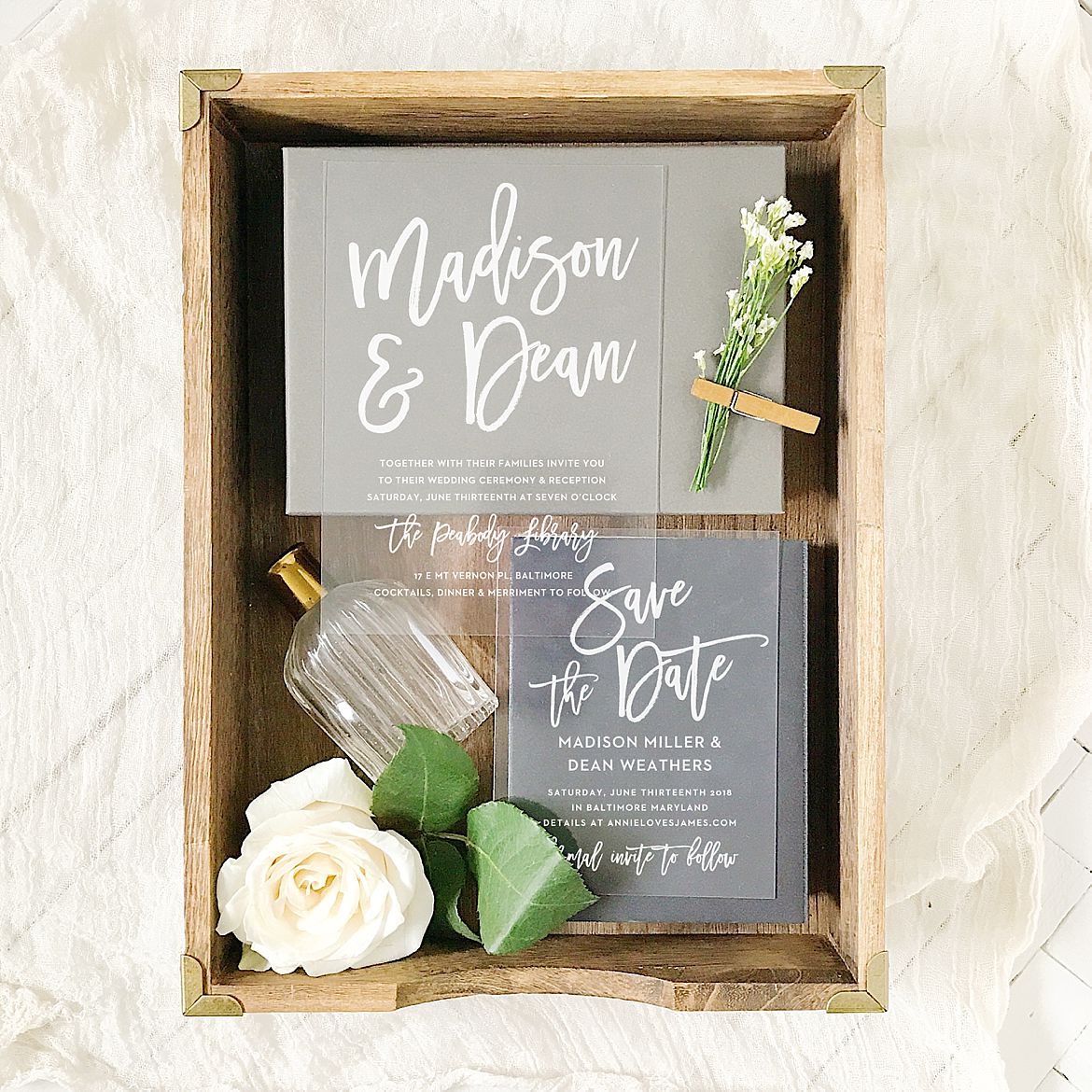 Prepare yourselves for some serious paper pretty! Your invitation suite is your wedding's introductory handshake to all of your very favorite party people—why not make it one that reflects your love story and everything to come? Basic Invite offers beautifully tailored custom wedding invitations online to fit the unique footprint of your special day! So to help all you brides-to-be with your wedding day greetings, we got to know a little more about their lovely products and all the many ways you can personalize each suite to reflect your beautiful love!
Unique Invitation Sets:
Each of their wedding invitations is part of a set: you can find everything from save the dates to traditional wedding invitations and enclosure cards, wedding menus, wedding programs and even matching thank you cards! Designs range from floral to rustic and typography to calligraphy—representing a whole host of styles for you to find your perfect fit!
Keepsake Guest Books:
Basic Invite also provides yet another way for you to tailor your wedding day paper products! Their personalized and customizable wedding guest books have a hidden ring which allows them to lay completely flat for a classy and convenient look. With sophisticated & beautifully designed pages, they provide the perfect opportunity for your wedding guests to leave you their sweet words and well wishes!
Custom Samples:
This is one of the few websites that allows customers the ability to order a printed sample of their actual invitation! You can see exactly how your invite will print, as well as the paper quality, before you ever have to place a final order—so you can get in some serious facetime with your suite before taking the big plunge!
Wonderful Color Options:
Basic Invite boasts almost unlimited color options for its clients with instant previews online. Once you select a design you can change the color of each element on the card to over 180 different color options. So, you can make sure your invitations are a true reflection of your day—down to the littlest detail!
Colorful Envelopes:
Beautiful invitations deserve envelopes with just as much personality! Brides & grooms can choose from over 40 different colors when it comes to their envelopes, so you can make your invitation stand out even before it is opened. All of the envelopes at Basic Invite are peel & seal so they can be quickly and securely closed—no lick-and-sticks here (hallelujah!)
Address Collection Services—for free!
You can use their free address collection service to request your addresses with just three simple steps. Share a link, collect your addresses, and get free envelope printing—turning what can too-easily be a logistical headache into one succinct process!
With so lovely a selection and opportunities for customization, Basic Invite is an incredible tool and resource for the paper-loving bride! Make sure to head over to head over to their website and give their selection a little peruse—we'll be doing the same!
---